Need help? Give us a call on 020 8500 1188
ACTIV™ BLUE
Activ Blue is an attractive blue glass that combines dual-action, self-cleaning properties with solar control performance for a cooler internal environment.
The blue tint offers aesthetic appeal and optimum performance. Keeping your conservatory cooler in summer is integral to the enjoyment you'll get out of this new living space and Activ Blue helps keep internal temperatures cooler whilst still maintaining excellent light transmittance.
In order to keep your conservatory, looking great you will need to ensure that it is kept clean all year round. While this admittedly sounds like a huge undertaking it's very easy to do.
Activ Blue has self-cleaning properties which means that it uses the forces of nature to keep your glass looking great.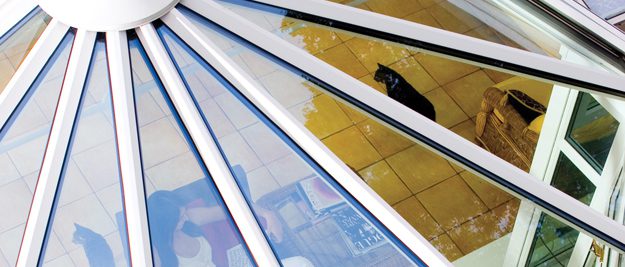 ACTIV™ NEUTRAL
Activ Neutral is a dual-function glass that provide both solar protection and a self-cleaning low-maintenance coating on the outside surface.  These unique glasses combine two coatings so you can have the best of both worlds!
The self clean coating harnesses UV light and rain to efficiently breakdown and rinse away dirty residues so your windows stay cleaner for longer. At the same time the solar coating blocks up to 2/3 of heat by reflecting it to the outside therefore keeping the interior temperature cooler during sunny spells.
ADVANTAGES
Less frequent and much easier cleaning – windows stay cleaner for longer
Save money – the cost of window cleaning is therefore reduced
Ideal for hard to reach areas – such as conservatory roofs
Permanent coatings – last the lifetime of the window
Attractive appearance and reduced glare, whilst letting in plenty natural daylight.
Offers good solar control performance, helping to keep rooms cooler during sunny periods.
Environmentally friendly – less frequent use of water, detergents and additional cooling equipment.
WHERE CAN IT BE USED?
This glass is particularly suited to applications where access for cleaning is either difficult or dangerous. It also allows for large areas of glazing, whilst reducing glare and excessive heat build up.
Conservatory roofs
Windows
Patio doors / other external doors.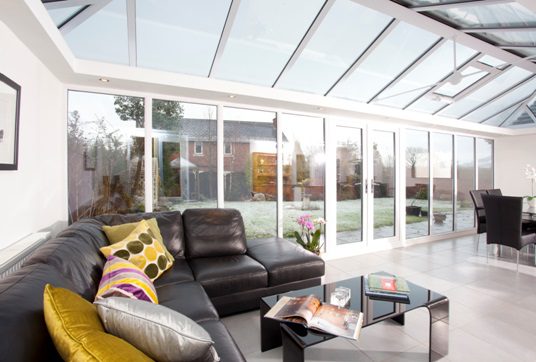 ACTIV™ CLEAR
Activ Clear is a self-cleaning glasses that stays cleaner for longer. A permanent, transparent coating on the outside surface of the glass harnesses the power of both sun and rain to efficiently breakdown and remove dirt and grime such as dried, dirty water marks, dust and insect residues.
ADVANTAGES
Less frequent cleaning – windows stay cleaner for longer
Much easier cleaning – less dirt and grime adheres to the glass
Save money – the cost of window cleaning is reduced
Ideal for hard to reach areas – such as roofs
The most neutral self-cleaning glass available
No unsightly tint or reflective surface – looks just like normal glass
Permanent coating – lasts the lifetime of the window
Environmentally friendly – less frequent use of water and detergents.
WHERE CAN IT BE USED?
Its remarkable properties make it ideal for most outdoor applications, particularly in areas which are difficult or dangerous to access:
Windows and doors
Roofs
Conservatories (don't forget the window above your conservatory!)
Balconies.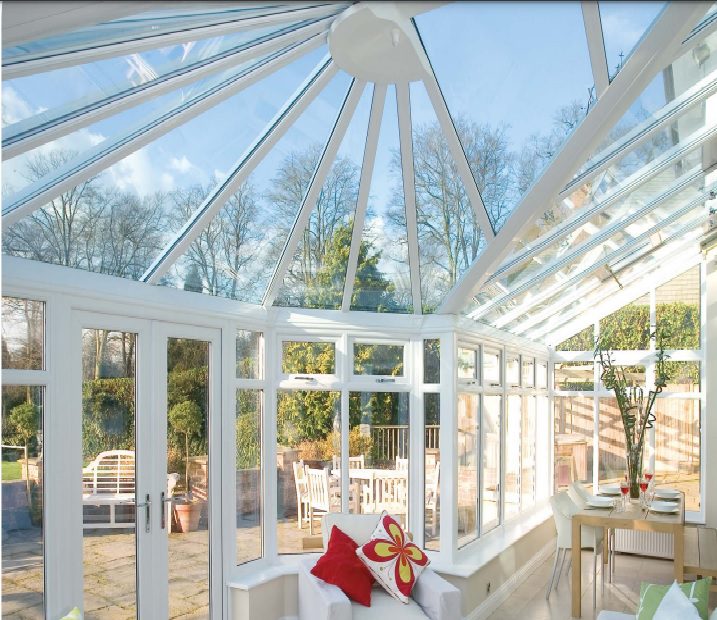 PLANITHERM 4 SEASONS
Planitherm 4S combines solar control and thermal insulating properties, providing a comfortable year round environment.
Planitherm 4S is ideal for conservatory applications and can be used in both the roofs and the vertical glazing.
There are many advantages to this kind of glass, including:
High quality thermal insulation properties. This ensures that the amount of heat that is lost through the glass is reduced greatly, done so more effectively than any of the standard low-E products out there
Offers an exceptional level of solar protection. So much so, it reflects up to 57% of solar heat gain through conservatory sidewalls, ideal for a room that can be heavily impacted by sunlight. It also reflects as much as 71% of heat when used together with BIOCLEAN COOL-LITE ST in the roof.
An energy efficient product that offers a reduced need for heating and cooling as it performs much of the functions itself. This glass is ideal for protecting the wider environment, as well as acting as a money saving solution.
Not only does it have excellent technical advantages, but it also provides a level of visual comfort when in the immediate vicinity. For example, it maximises natural light in a space whilst reducing glare. This way, it can provide an enhanced visual comfort.
Finally, aren't they amazing to look at? They offer a neutral appearance that makes them suitable for any space. This beautiful look is able to match the rest of your glazing, providing a seamless transition.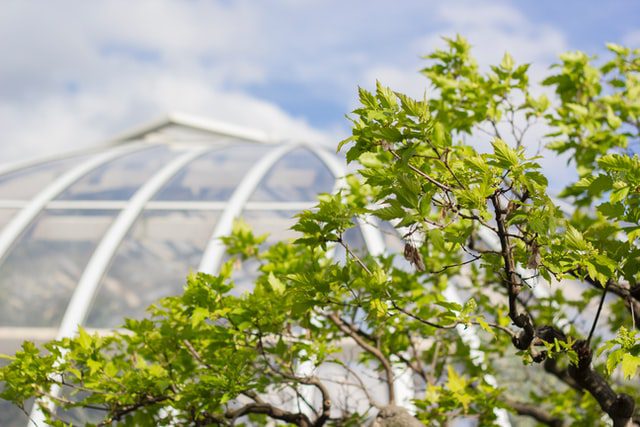 ANTI SUN
Anti Sun is a body tinted glass, manufactured in the same was a clear float glass, however has a coloured appearance as well as solar control properties.
It is intended for universal applications, where an attractive appearance or basic collar control property is required.
Interior applications for decoration, fittings and furniture
External application in single or double glazing, for facades and overhead glazing.